From the Editor
With the end of the academic year and the start of the new one, I'll spend the next few days updating the distribution lists for the Reading of the Week series. I'm using this opportunity to make a few technical changes, too. This is the Reading of the Week equivalent of a spring clean-up – though it's July, and I'm not touching a dustpan.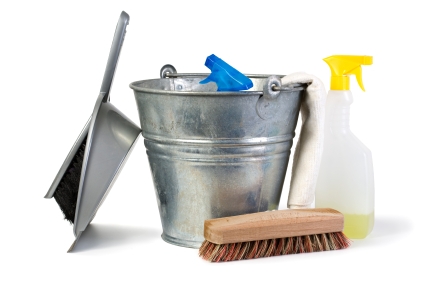 Spring cleaning, at least before computers
In any clean-up, we can mistakenly throw away something valuable – it's possible that some of you may stop receiving these emails (if you are getting our emails). If that happens and you would like to continue to get the Readings, simply pop me a message.
This week, I've picked an entertaining and yet moving essay from writer Julia Fierro talking about her illness and her recovery. Enjoy.
Oh, and congratulations to our colleagues who have finished their studies. I hope you enjoy your career in medicine as much as I have.
DG
Illness and Recovery
"The Secret to My Success? Antidepressants"
Julia Fierro
The New York Times, 6 June 2017
https://www.nytimes.com/2017/06/06/opinion/antidepressants-depression-creativity.html
A few months ago, I gave a reading at a local bookstore. A small but enthusiastic crowd attended, and I confessed to the audience filled with emerging writers that I had, in my 20s and early 30s, stopped writing for eight years, and that I had accepted I'd never write again. Then someone asked, 'How did you return to writing?'

I decided to tell the truth: Zoloft.
Julia Fierro
So opens an essay by writer Julia Fierro. The essay is short and highly readable – it doesn't require much of a summary from me.
In this piece, she talks about her struggle with anxiety and OCD. She notes that her symptoms appeared early in her life – "I began flipping light switches on and off (always in fives) in third grade." Though she would response to medications, she often weaned herself off from them as she felt better.
And while she talks about symptoms, she also talks about her functionality. For Fierro, the impact of illness was great.
I spent those years not writing, a secret I hid from my students who were winning awards for their fiction, and from my editing clients whose novels were acquired (one after another, it seemed to me in my dejected state) by major publishing houses. I accepted that I wasn't a writer after all — my grad school professors had been wrong. I had plenty of excuses for why I wasn't writing. I was teaching as an adjunct professor every day of the week and holding private writing workshops in my home at night; I was raising a small business and two children; I had writer's block; I needed to grow up, find material worth writing about, join a writers' space, get a new computer.
She notes her profound progress after starting Zoloft. And she closes by discussing her next book:
Standing in that bookstore, sharing my true self with the small audience, I can almost see the pages of the books I will someday write. I'm ready and I have some catching up to do.
A few thoughts:
This is a nice essay.
So often, we read accounts of people who dislike medications or struggle with its side effects. It's refreshing to read about a person who recovers with antidepressants. There is more to treatment than medications; for many of our patients, though, despite the common media portrayal, medications can be life changing.
Fierro writes about her symptoms, yes – and we providers think so much in terms of symptoms and symptom check-lists. But she also writes about the impact of her illness on functionality; when ill, she is a writer who can't write. That explains her illness experience more meaningfully than any check-list ever could.
Reading of the Week. Every week I pick articles and papers from the world of Psychiatry.